Charms, Pendants and Tags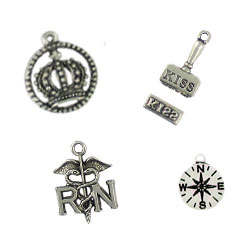 We have been creating pendants and charms since our inception in 1993. Many of our 1500+ designs may be viewed and ordered on the website of our sister company at contempbeads.com.
Do not feel limited by our production charms. We can create your own unique custom made charms, pendants or tags from a simple sketch or possibly even from a description of what you have in mind. The applications are virtually limitless and may be used as jewelry, key chains, buttons, rings, etc. Lead free pewter is used in the process of production and a number of plated finishes such as silver, gold, copper and more are offered.
Many companies today are attaching a small tag with their name or logo to their products, adding a touch of class to their merchandise. The tags are produced in a variety of shapes and fonts.
We are bulk manufacturers and a minimum order quantity will be required for all custom made items. Contact us with any questions or to get a free estimate for your personalized components.